EUROPEAN TOPIC CENTRE ON
CATALOGUE OF DATA SOURCES (ETC/CDS)
---
Final Report
Environmental Terminology Development on WWW
---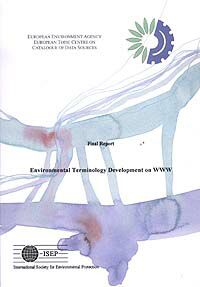 Author: Dr. Gerhard Budin, International Society for Environmental Protection (ISEP)

Edited in July, 1996

This report was created as a result of task 4, "Harmonized Terminology" of the European Topic Centre on Catalogue of Data Sources.
Contents
Acknowledgements:

Project coordination and preparation of the report: Dr. Gerhard Budin
Contributions by Veronika Rohrbacher (in chapters 4 and 7), Silvia Colomina and Mireia Ginesti (chapter 5.2), Christian Galinski(chapter 6), Johann Stockinger (implementation of WWW prototype).
Thanks to Felix Mayer, Klaus-Dirk Schmitz and Sue Ellen Wright for valuable comments on the Multiterm implementation and SGML markup.
Thanks to Dr. Werner Pillmann for active project supervision and many fruitful discussions, to Laura Hofer and Bernhard Lorenz for valuable comments, to Karin Tauchner for constructive comments on parts of chapter 4 (WWW in put and output forms), to Michaela Arndorfer for comments and layout support and to Wolf-Dieter Batschi for providing valuable information for chapter 5.2.
The HTML version of this document has been prepared by Laura Hofer.
---
ETC/CDS Homepage | CEDAR Homepage | ISEP Homepage